Make app build sharing easy with Appforshare.io with its customized display rules, URL, and more. You can now deploy the Ipa or .apk files to your clients directly and let the client give the authority to run his app in his personal domain.
What is Appforshare.io?
Appforshare.io is a tool for iOS and Android developers to deploy their development, ad hoc, and In-house applications directly on mobile devices. The self-service features of appforshare.io are easy to manage and provide secure file sharing.
Why Appforshare.io?
Do you find it difficult in sending your built apps (Ipa/.apk) files to your clients?
Are you stuck in choosing the right Ipa/.apk file installer or Ipa/.apk library download?
Why bother yourself with so many steps when things can be done with a single tap?
Appforshare.io enables you to install your .apk/.ipa files via HTTPS. You do not need to worry about any installation prerequisites for both iOS and Android devices. You have unlimited opportunities to delete and reupload your files within the limit of the package you have selected. Appforshare.io gives you the free disk quota to upload up to 500 MB files.
Features of Appforshare.io
Appforshare.io is a hassle-free tool that provides no side restrictions to develop and if you are a registered user then you can share the links of your build without any expiry.
Shareable links can be sent with release notes for a better understanding of version updates. Customized HTML pages can give your clients authority over their platforms.
iOS and Android Apps
Appforshare.io makes it handy for the developers to install their builds with a single tap. There is no need of downloading a simulator or any other tool to install the builds. You can directly go to our website, upload the Ipa/.apk file and get the link instantly to share with others.
Drag & Drop
After uploading you can see your product on the wall of apps from where you can simply drag and drop the shareable download link with the release notes to help differentiate better.
One tap App Installation
The build is easily installable using iOS and Android devices by the provided link. Open the link in the browser and download and install in just a single tap.
Privacy and Protection
Every link you get for the build is password protected. You cannot search it since the link is private and the values are fixed to uniquely tie the developers and the apps to an authorized development team and its users.
Device Compatible Tools
Our system and tools are easy to use and work smoothly without any glitches so that you can retrieve the UDID or verify the app compatibility with any device.
You can start Free
Appforshar.io provides you with incredible services and features with Free Disk Quota. You can start with no subscription charges and upload your files and avail yourself of unlimited services. However, you can extend your Disk Quota as per your need at very low prices.
Upload and send your first file…
Follow these simple steps to send and install your .apk or .ipa files anytime at https://appforshare.io/.
1. Upload the .apk or .ipa file
Click the Add File button to upload your Ipa file for iOS or .apk file for Android devices. You can upload your files up to 500 MBs with unlimited linkage, monthly downloads, and build services for free. You can also subscribe to our basic and premium services with the lowest charges and highest service packages.
2. Wait for it to upload 100%
Once you add your file it would take some seconds for the 100% upload. If you want your icon to be displayed on the wall of apps then mark the checkbox. You can also fill out the form to notify your users of the Release Notes that will be displayed on the installation page.
3. Send the file to your client
Once the upload is complete, you will see the link on your screen. Copy the shareable link and send it to anyone. You can also use the uniquely generated QR code to open the app on your browser.
These links and QR codes are unique, and password protected as per security rules designed for hack-free testing and development.
4. Download and install
Open the link in the browser of your mobile device and click install. After completing the installation, you can open the app and are good to go without any extra requirements. You can also see the app name, app id, versions, build, and other information to help understand the location settings and size requirements in your device.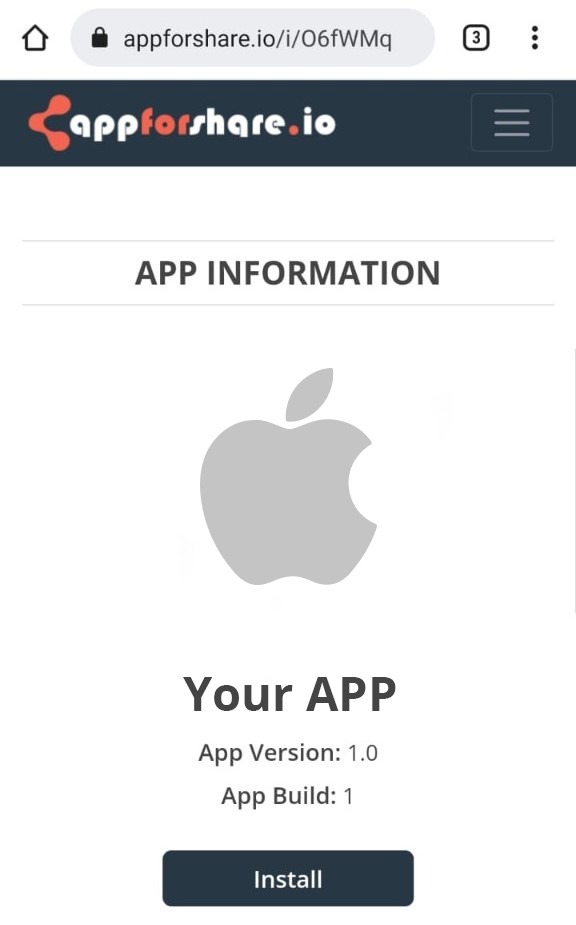 Appforshare.io provides you with a mobile-friendly platform that helps you in sending your files to your clients within minutes through OTA (Over the Air) deployment. Find the package and pricing details here.